This article is the third in a series of articles in which I will profile every woman astronaut, cosmonaut and taikonaut who has been into space.  Last time we looked at the career of Svetlana Savitskaya the second woman in space.  Today I'm profiling astronaut Sally Ride, the first American woman in space. (The feature image above is a collection of drawings of women astronauts by artist Phillip J Bond. You can find Phillip's wonderful series on women astronauts here.)
In 2004 I saw Sally Ride at an Australian Broadcast Corporation (ABC) Radio National Science Special in Canberra.  When I first saw her speak, I was surprised how small she appeared on stage.  In my mind, Sally Ride was larger than life, an adventurer, explorer, a trailblazer who broke boundaries in physics, astrophysics and space exploration.  Of course within a few minutes of her speaking I was completely drawn into her world of science and space exploration where her stature, and gender is irrelevant.  (The transcript of the show she shared with astrophysicist Paul Davies, and marine biologist Syliva Earle can be read here).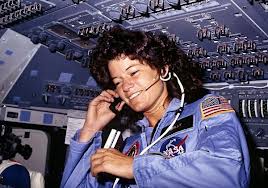 Sally Ride aboard the Shuttle (Image credit NASA).
Sally Ride was born in Encino, California. She had one sibling, a sister, her mother was a volunteer counselor at a women's prison, her father was a political science professor. Sally went to Swarthmore College, taking physics courses at UCLA, she then went on to Stanford to earn her Bachelors degree in English and Physics, and her Masters degree and PhD in physics.  Sally was an accomplished athlete, and nationally ranked tennis player in her youth. Continue reading →